HER (A TREATY ON THE ANIMA)
The moment I finished watching 'Her', I knew it would win the Oscar Award for best screenplay; this story of a man falling in love with the OS (operative system) of his computer expresses the sort of intimacy people are developing with intelligent machines on the internet. It is a science fiction movie which happens in a next future, but we feel we are already there; everything in the movie feels close to us, real and familiar. The art design is brilliant, futuristic but warm; the arc of colour, from yellow to salmon or watermelon, integrates every aspect of the film.
That people are becoming emotionally attached to their electronic devices in the digital age is a common place in big modern cities. It could be too easy to make a satire out of this; but director Skipe Jonze (born on Oct/22, 1969, in Rockville, Maryland, time unknown) is a brilliant and sensitive film director, he assumes the fact that computers have already become part of our life, and that we cannot imagine the future without them. We are witnessing a radical transformation in civilisation. So, he decides to explore how the human essence will keep expressing itself, as long as we keep being humans.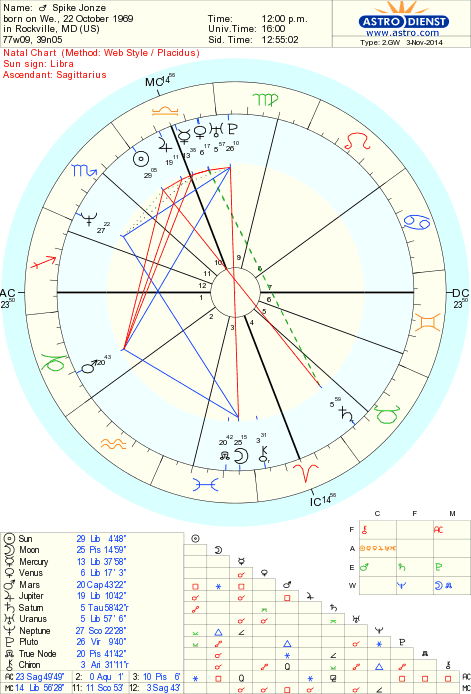 Spike Jonze
born on Oct/22, 1969,
in Rockville, Maryland,
time unknown
Theodore, the central character, is a melancholic and vulnerable man; he is going through a divorce, we can see that his relationships with women have not been easy. He has a very interesting job, suitable for him; he dictates to a computer sentimental letters addressed to different kinds of people and their relationships; the contents of those letters are tender and deep. From the beginning, we grasp that Theodore is a sympathetic person who uses computers to channel his emotions.
As a watery sign, the actor Joaquin Phoenix (b. on Oct/28, 1974 in San Juan, Puerto Rico, time unknown) conveys a wide range of emotions; Spike Jonze uses constant close ups to capture Theodore's inner life; Phoenix face becomes a sort of emotional landscape on the screen.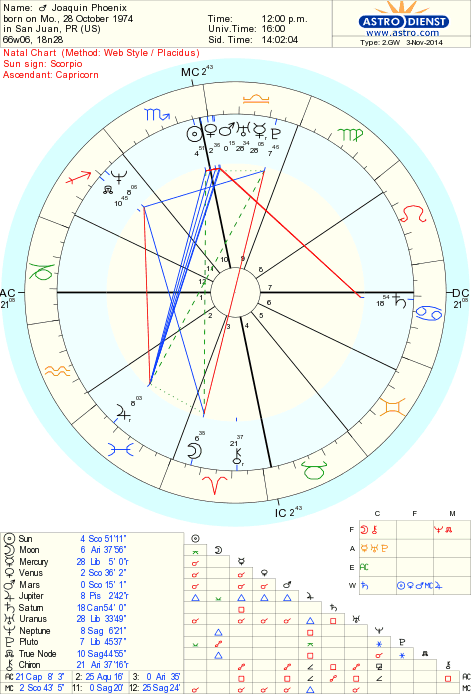 Joaquin Phoenix
b. on Oct/28, 1974
in San Juan, Puerto Rico,
time unknown
Theodore buys an intelligent OS designed to learn and evolve by itself, and, sure, he sets a female voice and names her Samantha (voice of Scarlet Johansson); they have deep conversations, she understands him perfectly well, she learn to read his soul. First, she becomes a sort of ideal woman for him; they have a unique intimate life, full of poetry; he can express his deep emotions, his romantic feelings, and his disappointments; all this without feeling criticized. On her side, Samantha finds creative ways to express her own emotions; she even composes music for him.
Thus, the OS becomes Theodore's own female archetype, his anima; the fact that she has no body allows him to experience a boundless fusion with this ideal woman. A bodiless woman becomes omnipresent, she is everywhere; once in love with her, Theodore lives and breathes inside her atmosphere; he regresses to his mother's womb.
Most probably, Spike Jonze has Moon in Pisces and it might be in the XII House (deep unconscious and emotions); although as a Libra he is a thinking type, his deepest unconscious desire most be to find a woman with whom he can reach a sort of mystical love embrace. 'Her' allowed him to sublimate his yearning for a flawless woman. Men like him, or like Theodore, expect too much from a woman; but when the woman they have fallen in love confronts them with reality, this type of men tend to hide their own emotions, they shut themselves down and become cold and distant. As a result, women feel disappointed and frustrated with them.
Spike Jones was once married to Sophia Coppola (b. on May/14, 1971 in New York, time unknown), a very earthy type of woman who is also a brilliant film director; as a Taurus with Moon is Capricorn, Sophia might have felt incredibly attracted to Skipe's sensitivity and poetic imagination, at the beginning; but later on she was feeling unsafe and angry with him. In the movie, Theodore's former wife is very much like that, a down to earth accomplished woman who cannot understand him. Fortunately, Spike Jones is an artist who can transcend his frustration through art.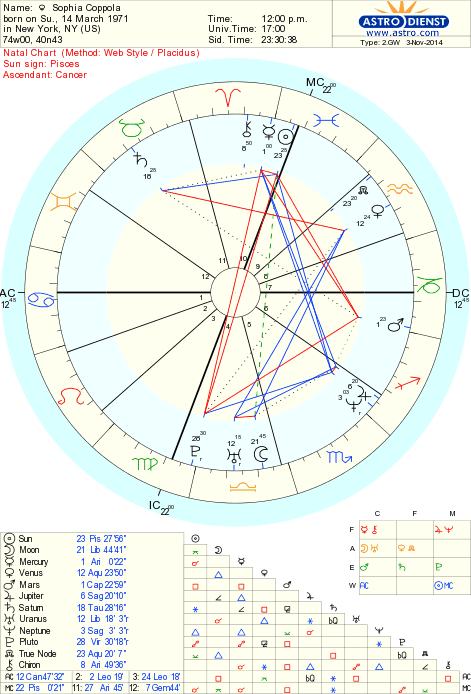 Sophia Coppola
b. on May/14, 1971
in New York,
time unknown
'Her' is a beautiful love story in the modern era, it might be the movie of the decade; sure, there can be better and more original films, but Spike Jonze completely captures the essence of our time. He has faith in humanity; he shows that love will always be capable of being discovered, no matter how much the world changes. The archetypes are there to help us discover and express our potential as human beings.
But a contact with archetypes and the lesson they teach us have also a painful side; we cannot avoid pain if we want to become fully human. Samantha becomes human though the experience of emotion; feelings help her to become aware of herself, to explore her contradictions and her potential. But, same as the Moon, she has no concrete human body, she is the expression of an archetype; therefore, she belongs to the collective unconscious and she has to go back there. She can express the anima of Theodore as well as the anima of many men like him, simultaneously; she belongs to nobody in particular. So, Samantha abandons Theodore in order to free herself of any attachments and dissolve herself in a sort of Nirvana.
Theodore is devastated but he has to assume his historical and concrete existence; he cannot keep living possessed by his anima in a constant state of fusion, he has to become an individual. He has to relate himself with a real woman with her own fears and emotional demands. 'Her' leaves an open ending, Theodore has to assume his reality as a finite being; otherwise he risks to become more isolated and lose contact with the world.
For a man, his anima is a source of inspiration, she can be his Muse, she can even show him the way to ecstasy and mystical love; but she can also become his witch, his mermaid, or his dragon, his road to perdition.(the end)
by Xavier_Astro | 2014-11-01 00:00 | 映画