STEVE JOBS, AN  ICON OF THE CENTURY (2)
Every component in our natal chart (signs, planets, houses) is related to an archetype (instinctive patterns to express our energy in a symbolical way). Cancer is special because it makes us actually feel any archetype; associated to the mother, this sign, ruled by the Moon, trains us in feeling since we start suckling our mother's breast. I mention this to illustrate the emotional dimension that Apple's items have provoked in our personal lives. Primal emotions are Cancer's dominion.
Perhaps the most appealing quality of Apple's devices is the association with very basic and even primitive tools; an iPod is simply a box where you can put as many valuable things as possible; valuable for you, of course. This association of material objects with emotions and fantasies led to the concept of Reality Distortion Field, as the business experts call the capacity Jobs had to lead and convince people that something was possible, he was said to make people think out of proportion. But if Jobs was able to do that it was because, as a Pisces, he had imagination and the capacity to feel and believe in what he promoted.
This Pisces and his team made true the old dream of mankind about wanting to keep and preserve huge amounts of important material in a tiny chest; a huge collection of books and records can be contained in an iPod; in the near future, whole libraries will be kept in some of those small devices. An iPad, for example, is only a modern version of any kind of pad; it is a sort of cushion, thus associate to comfort and support, but it is also a block of flat material where you can support your notes and drawings; I am sure that Ancient Egyptian scribes, architects and builders must have used pads. But this Apple pad is a sort of interactive computer which can connect you to the whole world, at any time!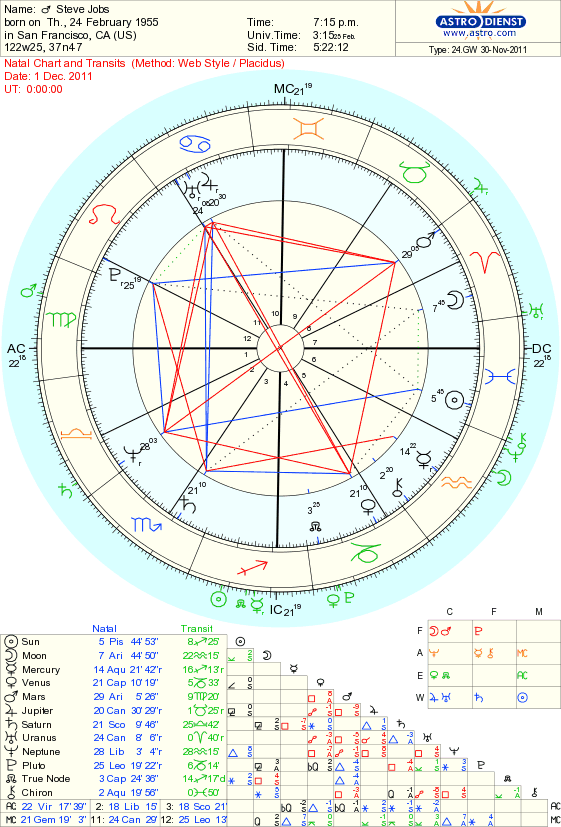 Steve Jobs
24 Feb. 1955
at 19:15
San Francisco, CA
With Jobs' simple appearance and way of dressing we can see how a Virgo Ascendant behaves; his outfit consisted of jeans, sneakers and turtle neck pullovers. Our Ascendant becomes stronger and more obvious as we grow old; when young, Jobs used to use extravagant and expensive clothes, but as he grew old, he became more and more modest, almost like a monk.
For sure, he was able to express and develop his talents thanks to his Moon and Mars in Aries; courage and fighting energy were required to endeavour such big projects as Apple or NeXT demanded; Jobs must have fought huge battles with some of the most powerful men in the world, in the business area. It is well known how explosive and even harrowing at time he could be with his staff. As a Pisces, Jobs was very secretive about his personal and domestic life, but his Moon in Aries in the VII House (partners and marriage) must have been very hard to endure for his wife, or for anyone emotionally involved with him.
Saturn was there, as usual, making things happen and take shape is concrete ways. Saturn in Scorpio shows a tendency to obsessive control; with this position, the fear of failure is like the fear of death; in the III House (house of Mercury and the act of breathing), the fear is also associated to paralyses, the thought of not being able to move or breathe is a real nightmare. Jobs fought a long battle with cancer, but the final reason of his decease was respiratory arrest. We can say that his Shadow (Saturn), suffocated him.
So, how is it that such a creative and successful person, a man never intimidated in expressing his own emotions and opinions, should die, relatively young, of pancreatic cancer? Glands are a sort of bridge between the physical and psychic dimensions; there was some sort of channel that Jobs was not able to open; maybe the fact that he was an adopted child, notwithstanding the fact that his foster parents loved and cherished him, the pain of the abandoned baby was so unconscious that the adult Jobs could not connect it. Officially he never recognized any kind of pain or resentment, but during his terminal process he surely discovered and understood the poisonous emotions he had concealed to himself. Who knows?
The psyche can be so mysterious, but the symbols are always there, in front of us, ready to be interpreted and reinterpreted; throughout the years, many revelations and new aspects of his life will be disclosed. Jobs Neptunian charisma will keep expanding in this century, it has already become one of the icons by which future generations will identify and try to understand our present generations.
(the end)
In Japanese
STEVE JOBS, AN  ICON OF THE CENTURY (1)
by xavier_astro | 2011-12-15 00:00 | 人物