VENUS AND ROCKETS, LOVE AND RELATIONSHIPS (1)
Last month, l read on the BBC web site that Japan had sent a rocket to Venus to study its atmosphere. I was very intrigued with the news because l did not know that Japan had an important Space Center in Tanegashima island, south of Kyushu; the rocket was launched on May/20/2010, Friday, at 6:58 am, there had been a previous intent the same week but it had failed due to bad weather. Venus, the planet associated to the goddess of love and beauty, wanted a bright morning day to accept the probe that is going to analyse its surface, and, sure, it had to be on a Friday, the day associated to her cult.
Venus likes good arrays and organization; when we look at the event chart, we see how neatly everything matches: Venus is on the Ascendant, meaning that the morning star was, of course, on the horizon, in Cancer, sign of the Moon; further more, Mercury is in Taurus, sign of Venus, as this goddess likes harmony and reciprocity; we are dealing with knowledge, science and technique; the Sun is still in Taurus, sign ruled by Venus (Venus made the scientists wait for a bright day, but not for too long because she wanted to be in her own territory).
We have to see the event chart from two perspectives; one is about the significance for the world, for the history and future of science and astronomy; the other, more complex, is related to Japan itself.
In global terms, the key words are 'experiment' and 'communication', the Akatsuki (name of the orbiter) will join an European project called the Venus Express; Jupiter and Uranus in Pisces are the highest planets in the chart, this means that the endeavour will have unexpected consequences in the future, specially now that Uranus is transiting in Aries, humanity is starting a new cycle of development of about 84 years (a whole cycle of Uranus). Concerning knowledge and vision, the evolution of the human brain will make huge steps; surely, all this can be possible as long as we keep under control our self destructive tendencies as a species; Pluto in Capricorn in the Seventh House opposing Venus shows this propensity in the chart.
Actually, Pluto in this event chart is also very strong as it is opposing Venus and in contact with Mercury, Saturn and Uranus, most important, it is in Venus house, house of partnerships and marriage. It seems that Venus is trying to balance in a positive way the havoc the transit of Pluto brings about.
My impression is that Humanity has this intuition that as we are destroying our planet, either by greed (dark aspect of Mercury associated to selfishness and carelessness), neglect (dark aspect of Jupiter associated to over indulging) or constant war (Mars and Pluto), we need to open need possibilities for survival, even a way of escape from our own planet, in the worst scenario. Conditions on Earth may herald a possibility of total annihilation of life.
Among several purposes of the Akatsuki Project, one aims at studying the extremely high temperatures on the surface of Venus; astronomers want to know if this heat, capable of melting lead on the crust of the planet of love, finished up with Venus' oceans and possibly life, or, maybe the opposite, that this is only a phase in the evolution of this planet that so much resembles our Earth. As global warming threatens humanity, scientists intend to explore the possible consequences for life in general; or if Venus, a sort of twin planet of ours, may become somehow inhabitable for future generations escaping from Earth to another planet.
All this sounds like science fiction, and maybe it is, we do not know, we will not see it in our lifetime; but what we can see is the meaning behind this apprehension about survival, reflected also in the event chart. Venus requires order because her task is maintaining life, which needs proportion, associations, good matches, all this is kept through laws of attraction. At first sight, Venus and Pluto may seems too dissimilar, one is related to beauty, the other to death and transformation; in fact, they support each other, there is a sort of complicity between the two of them. Venusian attraction is necessary for reproduction and generation, Pluto's tasks. In a chaotic and horrible world, life cannot be supported.
AKATSUKI launched at 6:58a.m. on May 21(Fri.) 2010(JST) at Kagoshima, Japan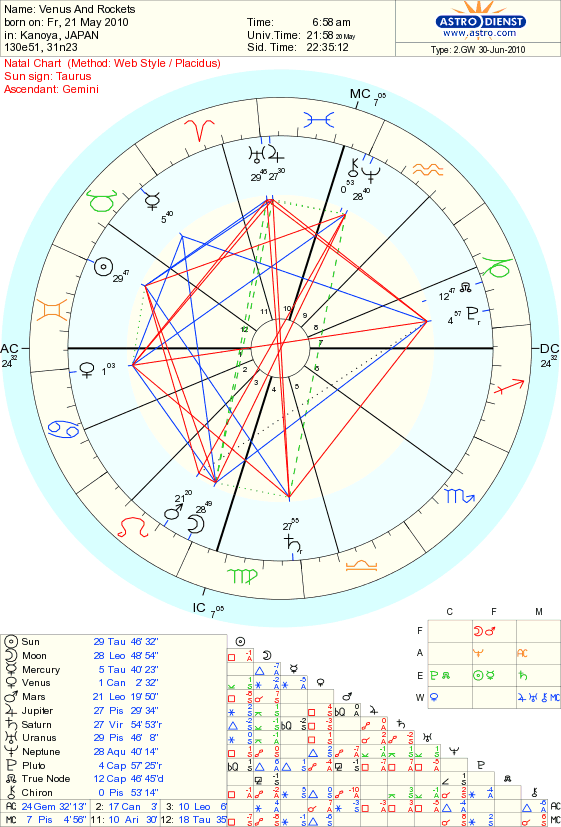 JAXA Japan Aerospace Exploration Agency AKATSUKI
WikipediaAkatsuki_(Planet-C)
In Japanese...
by xavier_astro | 2010-07-01 00:00 | 占星術